General information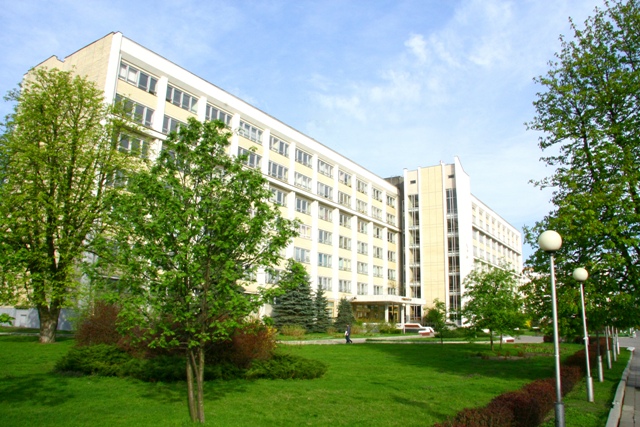 Brest State A.S. Pushkin University is a contemporary of the Great Victory.
In 1945 BSSR Council of People's Commissars adopted a resolution approving the establishment of a teachers' institute. In 1949 the institute was named after A.S. Pushkin and in 1950 the resolution of the USSR Council of Ministers established Brest State Pedagogical institute, in 1995 renamed Brest State University (Brest State A.S. Pushkin University in 1999).
The university status preconditioned modifications in the quality of teaching, as well as in research and educational work. In the year 2015 BrSU celebrated its 70th anniversary. Today Brest State A.S. Pushkin University is the largest educational institution in Brest region, a centre of scientific research and cultural life of west Polesye. It has its own anthem, flag and emblem.
On 3 May 2014 the Minister of Education of the Republic of Belarus issued an order appointing a Senior Doctor of Pedagogics, Professor Anna Nikolaevna Sender rector of Brest State A.S. Pushkin University.
The University occupies three academic buildings, with four halls of residence, a sports complex with a swimming pool, a library, museums of biology, ethnography, geology, history of physical culture and sport in Brest region, a winter garden, a perpetual florescence garden, agrobiological research and sports and fitness facilities. The departments are equipped with media centres; all university buildings provide wireless internet access.
The information, analysis and innovations department, as well as department of international affairs, a shopping centre, "UniverTour" travel centre, etc.
EDUCATIONAL ACTIVITIES
The modern university benefits from multi-profile and multi-level professional training: it provides pre-university education; higher education in 9 areas: "Pedagogics", "The Humanities", "Natural Sciences", "Social Security", "Communications. Jurisprudence. Economics. Administration Economics and Production Management", "Ecological Sciences", "Technologies and Engineering", "Physical Culture .Tourism and Hospitality", "Public Catering .Public Services"; postgraduate courses for Master's degree and PhD; the opportunity to improve the qualifications and obtain further education at the Institution of Advanced Training and Retraining. Taking into account the needs of modern educational market, the university keeps opening new specialties of education. Thirty-eight branches of the sub-departments have been opened in the organizations and institutions for which the university trains personnel in order to implement practice-oriented approach in training professionals.
The university consists of 10 departments: Philology, Psychology and Pedagogics, Social Pedagogics, Foreign Languages, Physical Education and Sport, Geography, Biology, History, Physics and Mathematics, Law. Pinsk College is a separate branch of the university.
About seven thousand full-time and part-time students study at the university. 494 lecturers (including 16 Doctors of Science, 19 Professors, 225 Candidates of science, 197 Associate Professors) work at the 45 university academic departments.
19 students who achieved high records in learning Humanities, Natural sciences, sports , in creative activities and public life of the University are awarded nominal scholarships. In 2015 four students of the University became the winners of the scholarship of the Special fund of the President of the Republic of Belarus for social support of the gifted school children and students. Four students are the holders of the scholarships instituted by Brest regional executive committee, Central and regional committees, the University local organization of the Belarusian  trade union of educational and research workers.
SCIENTIFIC TRADITIONS
Educational research groups of the university enjoy wide appreciation both in Belarus and abroad, they are: philological (headed by professor Z.P. Melnikova), physical (headed by professors V.A. Pletiukhov and A.F. Revinsky) and pedagogical groups (headed by professors A.N. Sender and M.P. Osipova). These and other groups of authors are famous for their research in various spheres of science, modern education and training, they compile and publish teaching packages for schools and universities (curricula, textbooks, manuals, etc.).
The university highly appreciates the pedagogic heritage of its first professors – Vladimir Kolesnik and Stepan Kondratenya: the university holds scientific conferences named after them, houses the academic and educational centre named after Vladimir Kolesnik.
BrSU carries out fundamental, academic and state-contracted research. The scientific studies are performed according to the Fundamental Research Foundation programs, state programs and the Ministry of Education projects.
The research scope covers 55 fundamental and applied projects, state-contracted research; the scientific inquiry is performed in accordance with the Fundamental Research Foundation programs, State Committee on Science and Technology programs, the Ministry of Education projects, etc. Students take active part in research work: over 2000 students' works are annually published in conference proceedings, collected books and magazines, about 50 papers are annually presented to the National contest of student research works, and about one out of three papers becomes a winner.
The number of students engaged in various forms of extracurricular research work has increased recently and in the year 2015 exceeded 3000 people. There are 140 student research teams and societies and 11 student research laboratories where more than 900 students and postgraduates are engaged. More than 160 scientific student, international, republican, interuniversity and university conferences were held at the university in 2014.
The University has its own publishing house with a printing facility, which allows publishing textbooks, manuals and monographic treatises, as well as collections of teachers' and students' research works. The periodic editions include "Vestnik Brestskogo Universiteta" academic journal, "Brest State A.S. Pushkin University scientific papers" research work collection, "Berastejsky Universitet" newspaper. The University library numbers about 800 thousand copies and provides a digital catalogue of the library stock.
INTERNATIONAL COOPERATION
Our university is well-known abroad due to its cooperation (teacher and student exchanges, joint scientific events and cultural projects) with numerous partner institutions of higher education in CIS and other countries: University of Education in Weingarten (Germany), Higher Pedagogical School in Kreuzlingen (Switzerland), Maria Skłodowska-Curie University in Lublin (Poland), East European National University after Lesya Ukrainka, Smolensk State Pedagogical University and Bryansk State University (Russia), the University of Xiaogan Province and Hohhot Vocational College (China), Catholic University of Leuven (Belgium), Budapest University (Hungary). International cooperation contributes to the training quality, providing university students with the opportunity to study abroad.
More than 500 foreign students from Turkmenistan, China, Kazakhstan, Turkey, South Korea, Azerbaijan, Germany, Poland, the USA, Ukraine, Lithuania, Uzbekistan and Russia study at the university.
The University participates in international projects "Erasmus+" and TEMPUS, cross-border cooperation Poland-Belarus-Ukraine.
In 2009 the title of Honorary Doctor of Brest State A.S. Pushkin University was awarded to professors Т. Hellbrügge (Munich International Academy of Rehabilitation, Germany) and M. Van Hulle (Catholic University of Leuven, Belgium), in 2011 this title was awarded to K. Rosenthal (Padeborn University, Germany)
SPORT AND HEALTHCARE
The University takes pride in its outstanding sportsmen - the XXVIII Summer Olympic Games  (Athens, 2004) champion Yulia Nesterenko (track and field athletics) and bronze medalist Natalia Gelah (rowing). University students participated in the XXIV World Summer Student Games held in Thailand in 2007 (Julia Leontyuk took second place in shot put; Alexander Kazulka took second place in hammer throw). Five university students took part in the XXIX Summer Olympic Games in Beijing. In 2009 D. Doroshuk won the bronze medal in the World Championship in floor exercise, and E. Kopets won bronze medal in indoor track and field events at the European championship (both students of the Department of Physical Education). Picked team in swimming (the coach S.A. Surkov) was the first on the Republican Universiade.
The University has all the facilities necessary for maintaining  and improving  students' health: a health care centre, sports complex with four gyms and a swimming pool; more than 20 sports and fitness groups, a "School of the young football referee", and tourist club "Berestye". In 2006 the university co-founded BrSU-OPC "Victoria" basketball team.
International competitions named after university lecturers are the heart-warming traditions of the University: Open Athletics Throwing Tournament for the prizes of the Honoured coach of the USSR E.M. Shukevich, Interstate acrobatics tournament in memory of the Honoured coach of the USSR V.P. Korkin, Handball Cup in memory of the Honoured coach of the BSSR, A.P. Meshkov.
IDEOLOGY AND EDUCATION
Ideological and educational activity at Brest State A.S. Pushkin University is based on the ideas and values comprising Belarusian national ideology as a system of beliefs consistent with the objectives and peculiarities of Belarusian way of socio-economic and social development.
A present system of ideological and educational work in the University incorporates all the main stages: 1) University level (Administration, Coordination council on ideological and educational work with the students, specialized structural units – youth education center, sports club, student club, social and pedagogics and psychological service, University  departments, public organizations, associations, units of student management, 2) Faculty level, 3) Department level, 4) academic groups, 5) individual.
The main trends in the ideological and educational work in the University include: ideological education, civil and patriotic education, moral and aesthetic education, ecologic culture education, life safety culture, promotion of healthy way of life, labour and professional education, self-knowledge and self-regulation culture education, gender education, family education, social, pedagogical and psychological attendance, monitoring and control of the ideological and educational work, analytical service.
To form the legal and political culture of the future specialist the meetings with public and political figures, deputies of the House of Representatives of the National assembly of the Republic of Belarus, the Administration of the region and town, law and order officials are held.
Interpreting the state internal and external policy of the Republic of Belarus is the most important guideline in organizing ideological and educational work in the University .To inform the students and the personnel of the University about the most urgent public and political as well as social and economic processes in modern Belarus the University organizes a common information day This work is organized by information groups. It has become a good tradition to conduct joint meetings of the students and the administration of the University and the Departments.
Special attention in the ideological and educational activity of Brest State A.S. Pushkin University is paid to preserving the old and establishing new traditions. To achieve this objective, the university holds a number of various events: a celebratory assembly of 1st year students; initiation of freshmen into students; the University Day; "Believe in yourself!" contest (to the title "Student of the Year"), volunteer meeting, student art festival "Student Spring"; tourist meeting, sports ceremony, student groups meeting, open contest of reciters "The Mystery of Word and Thought"; open oratory contest "Speech Master"; "The Last Bell" ceremony for graduates and much more events.
The University hosts 13 clubs and amateur arts groups: folk chamber choir «Gaudeamus» (headed by N.I. Trofimuk), folk drama school (headed by P.D. Bekish), folk student choir (headed by A.P. Grinyak), folk vocal group "New Land" (headed by L.I. Borsuk), pop studio "Steps", male vocal group "Mroya", accordion trio "Vostorg" and many other art groups. The KVN League (Club of the merry and resourceful) also enjoys a long history (headed by B.L. Shkabaro).
For seven decades of its history, Brest State A.S. Pushkin University has deservedly become a regional educational, scientific and cultural centre.
Welcome to Brest State A.S. Pushkin University!