You are here
Home
›› Local History at the Brest State A. S. Pushkin University at the I Republican Local History Forum
Local History at the Brest State A. S. Pushkin University at the I Republican Local History Forum
On March 12–13, 2020 Minsk held the First Republican Local History Forum of Belarus as part of the Year of the Small Motherland. It was organized by the National Historical Museum of the Republic of Belarus, the Belarusian Culture Fund with the National Library of Belarus, the publishing house "Star" with the support of the Ministries of Culture, Information and Education of the Republic of Belarus.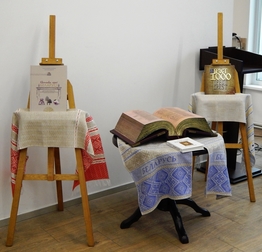 The participants of the forum were local historians, teachers and students of higher educational establishments, employees of cultural, educational, scientific institutions, teachers and pupils, representatives of public organizations. The head of the Chair of History of Slavic Nations, Doctor of Historical Sciences, Professor Alexander Vabishchevich presented the results of local history at the Brest State A. S. Pushkin University.
He noted that the university has a long tradition of educational work in local history, in the country and abroad is well known for its achievements in the field of literary, linguistic, geographical, environmental, historical local history. This is the result of creative work of V. A. Kolesnik, V. Y. Lyashuk, G. M. Strok, M. I. Mishchanchuk, A. A. Moiseichik, V. V. Melishkevich, V. Y. Naumenko and many other famous representatives of the teaching staff, veterans and current teachers, who have taught and continue to teach students the methods of local history, brought up patriotism and love to their native land. Much has been done at the university and on the scientific research of Brest region, its separate districts, towns and villages.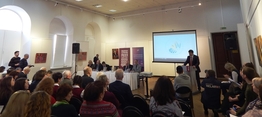 During the forum in separate sections,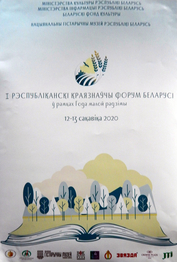 the actual questions of local history in system of research work, in educational process of educational institutions, prospects of ecological local history and tourist activity, experience of out-of-school local history, wider involvement of student youth and schoolchildren in local history work were discussed. All of them were reflected in the final report, which, among other things, proposed to create an independent local history society.
On the eve of the forum on March 11, in the bookstore "House of Books "Svetoch"" the holiday event "Books World of Belarus: Beresteishchina" was held with the participation of publishers, writers, local historians, employees of cultural institutions, heads of Brest Regional Executive Committee, City Executive Committee, deputies of the House of Representatives of the National Assembly of the Republic of Belarus. Among the presented local history books was the encyclopaedia "Брест. Брэст. Brest. 1000". Teachers and staff of the Brest State A. S. Pushkin University took an active part in the preparation of which. For this and other local history publications "The Belarusian Encyclopaedia named after Petrus Brovka" was awarded a diploma according to the results of the competition for the best local history publication 2017–2019, which was announced at the I Republican Local History Forum of Belarus.
Chair of History of Slavic Nations