You are here
Home
›› Intellectual competition for foreign students «We know Russian»
Intellectual competition for foreign students «We know Russian»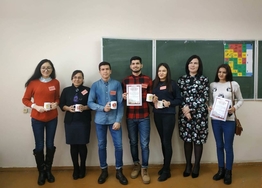 On 30–31 January the intellectual competition for foreign students «We know Russian» was held at Faculty of Philology. Six teams representing various faculties took part in the competition. Each team comprise 5 participants, who study at different course years, but keen on Russian culture and language.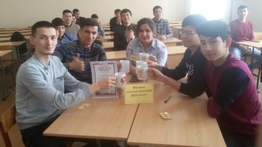 In the course of bitter rivalry among teams, the true pundits were brought to the light. Team of the Faculty of Philology (Ihlas Adikov, Gulnara Atajanova, Merdan Jumaev, Alfiya Amirova and Aisona Baimyradova) took the first place with 38 points. The second place was occupied by the team of Faculty of Physics and Mathematics (Serdar Bayramov, Arslan Garajaev, Mahri Akmiradova, Alisher Ismailov, Khemra Jumaev) with 26 points.
All participants of the competition were awarded with diplomas, winners – with memorable gifts.