You are here
Home
›› Exhibition dedicated to the Constitution Day of the Republic of Belarus «The Constitution of the Republic of Belarus and foreign countries»
Exhibition dedicated to the Constitution Day of the Republic of Belarus «The Constitution of the Republic of Belarus and foreign countries»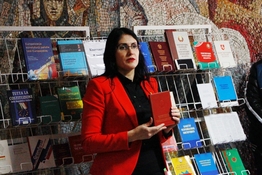 On 15 March 2018 the exhibition dedicated to the Constitution Day of the Republic of Belarus was held at the Faculty of Law. The Senior lecturer of the Department of theory and history of state and law Tsuga Svetlana Anatolyevna presented her original collection of the constitutions of Belarus and foreign countries.
At the exhibition you could see the Constitution of the USSR, SSRB and BSSR, the Constitution of March 15 1994 and commentaries to the current Constitution of the Republic of Belarus.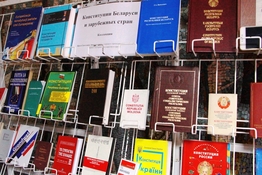 The most interesting exhibit items were the Statute of the Great Duchy of Lithuania (1588), The Constitution of the USSR (1937), The Carta of fundamental rights of the European Union (miniature edition), The Constitution of the Russian Federation ( in figures and diagrams).
There were a lot of possibilities to become familiar with the Constitutions of Russian Federation, The Ukraine, Estonia, Moldova, Kazakhstan, Turkmenistan, Azerbaijan and Abkhazia.
Among the Constitutions of foreign countries the Main Laws of such countries as the USA, Poland, France, Germany, Italy, Netherlands, Greece, Turkey, the Czech Republic, South Korea and a collection of Constitutions of the European Union.
The author hopes for further addition to the collection, which reflects her professional hobby.